Metal roofing is becoming increasingly popular in Ridgewood due to its durability, energy efficiency, and aesthetic appeal. If you're in the market for a new metal roof, it's crucial to select the right company to ensure the job is done correctly and to your satisfaction. Here's a step-by-step guide to help you choose the best Ridgewood metal roofing company.
Ridgewood Metal Roofing Company | Steps for Choosing the Best
1. Start with Research
Before diving into any decision, begin with thorough research.
Local Experience: Look for companies that have been operating in Ridgewood for a significant amount of time. Local experience means they're familiar with the region's climate and building regulations.
Specialization: Ensure that the company specializes in metal roofing. This ensures they have the requisite knowledge and expertise for the job.
2. Ask for Recommendations
Word-of-mouth remains one of the most reliable sources of information.
Ask neighbors, friends, and family members who've had metal roofing jobs done about their experiences.
Check online forums and community groups. Local residents often share their experiences and can provide invaluable insights.
3. Read Reviews and Testimonials
Online platforms, such as Google, Yelp, and the Better Business Bureau, allow customers to leave reviews for businesses.
Go through the reviews to get a feel of the company's reputation.
Look for patterns. If multiple people mention excellent workmanship or punctuality, it's a good sign. Conversely, repeated negative remarks about the same issue could be a red flag.
4. Check Licenses and Insurance
It's vital to ensure that the company you're considering is licensed and insured.
A valid license indicates they adhere to local regulations and standards.
Insurance, especially liability and workers' compensation, protects you from any unforeseen incidents during the project.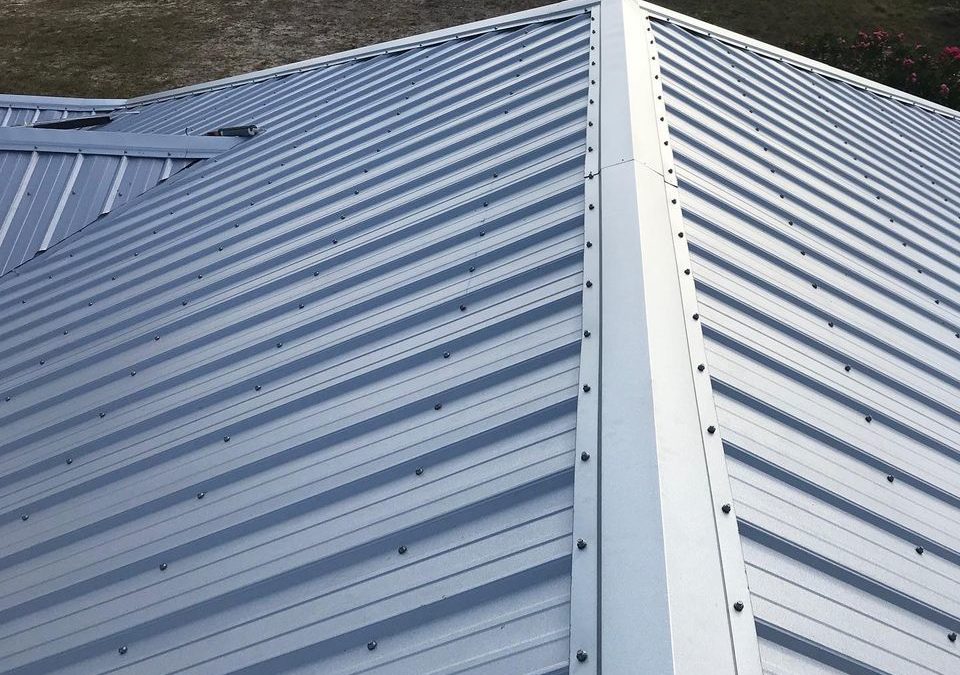 5. Ask for References
A reputable roofing company should be willing to provide references from past clients.
Contact these references to inquire about their experiences with the company.
This can provide a more in-depth insight into the company's work ethic, professionalism, and quality of work.
6. Consider the Materials Used
The quality and type of metal used can make a significant difference in the longevity and appearance of your roof.
Inquire about the materials they use. Look for high-quality metals like galvanized steel, aluminum, or copper.
Ensure they offer a range of options, so you can choose a material that suits both your aesthetic preferences and budget.
7. Get Multiple Quotes
Price is an essential factor, but it shouldn't be the only one.
Get quotes from at least three different companies to compare prices, materials, and services offered.
Remember, the cheapest option is not always the best. Consider the value you're getting for the price.
8. Evaluate Communication
The way a company communicates can tell you a lot about their professionalism and customer service.
Are they prompt in responding to inquiries?
Do they take the time to answer questions and provide clarifications?
A company that communicates effectively is likely to be reliable and attentive during the project.
9. Ask About Warranties
A warranty is a sign of trust in the quality of work.
Find out what kind of warranty they offer for both materials and labor.
Ensure you understand the terms and conditions. A long-term warranty that covers a broad range of issues is preferable.
10. Visit a Work Site
If possible, visit a site where the company is currently working or has recently finished a project.
This gives you a firsthand view of their workmanship, the cleanliness of the site, and the efficiency of the team.
Choosing the best Ridgewood metal roofing company requires time, effort, and a systematic approach. By following the steps outlined above, you can make an informed decision, ensuring that your new metal roof is of the highest quality, installed by professionals dedicated to excellence.
Looking for a Great Metal Roofing Company in the Ridgewood, NJ Area?
If you're looking for an experienced and reputable metal roofing contractor in the Ridgewood, New Jersey area, you've come to the right place! LGC Roofing has been providing NJ metal roof installation and metal roof repair services residentially and commercially for more than 30 years, and specializes in standing seam metal roofing. We serve the entire state of New Jersey. For more information, you can contact us today at 732-998-5531, or check out our website.
NJ Metal Roofing Contractor Home Page